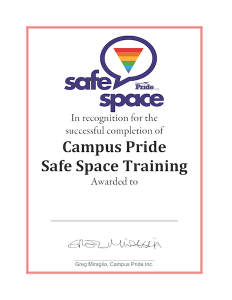 Campus Pride is proud to offer online training for college and university faculty, staff, administrators, or students who are interested in creating a safe and inclusive space for LGBTQ+ students and colleagues.  If you wish to begin a safe space or safe zone program on your campus, this course is an ideal way to get started.  The course content is a national standardized model we recommend for college and universities.  It includes four modules that are designed to address the following learning outcomes.
Explain the difference between sexual orientation, gender identity and gender expression.
Define terminology used to describe sexual orientation, gender identity and gender expression.
Identify ways to create an inclusive classroom and campus space for LGBTQ students.
Understand and learn key moments in the LGBTQ civil rights movement.
Most people can complete this training in a couple of hours, but you can spend as much time exploring the optional resources provided as you wish.  At the end of the course, you will take the Safe Space Quiz and then you will be eligible for an official Safe Space training certificate from Campus Pride.  This course is offered free of charge.  Certificates may be purchased for $25 per person.
Instructions:  You can enroll in this online course immediately and begin any time.  If interested, please complete the form below.  Once you submit the required information, you will be routed automatically to the Canvas platform where the course is hosted.  Follow the instructions for completing the enrollment.  If you encounter any difficulty enrolling in the course, please send Campus Pride a message.